This recipe has been in my recipe collection for a long long time and since pau flour is not readily available here, have not made pau from scratch. I gave this recipe to a dear friend to try and she liked it. So, i decided to have a go at it .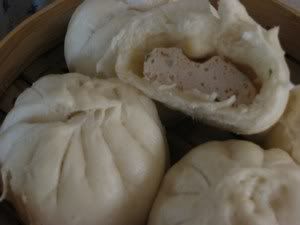 Ingredients:

For the pau

A:
400 gm bleached all-purpose flour(remove 4 tbsp and replace with 4 tbsp of Wheat starch - tung mein fun)
240 ml water
1 ½ tsp instant yeast.

B:
100 gm bleached all-purpose flour( remove 1 tbsp and replace with 1 tbsp of Wheat starch - tung mein fun)
50 gm sugar
10 gm shortening
1 ¼ tsp double action baking powder

FILLING:

300 gm pork
2 stalks of spring onion
10 gm young ginger
20 gm shallots(sliced and fried till golden)

Seasoning:

1/2 tsp salt
1 tbsp sesame oil
1 tbsp soya sauce
1 tsp sugar
1/4 tsp msg
50 cc stock

Method:

For pau:

Mix ingredients A together.

Knead until smooth and elastic.

Let it rise for 40 mins

Mix dough from method 1 with ingredients B. and knead until well blended.

Cut into equal portions and roll all the portions into a very thin circle before wrapping in filling. Wrap the first circle and so forth.

Let it rise for 20 minutes.

Steam for 15 minutes.

For Filling:

Chop pork till fine.

Chop spring onions and ginger until fine.

Mix ingredients for seasoning with pork.

Use the cake mixer and with the paddle beat pork until elastic.

Add in stock, spring onions and ginger.

Serves


I have found that pau with thinner skin do not steam up pretty and also do steam paus with medium high.