"Queso" is cheese in Spanish. And a quesadilla is a toasted tortilla with melted cheese inside. But in addition to cheese, you can put practically anything in a quesadilla. I was trying to finish my roasted turkey and made this for breakfast.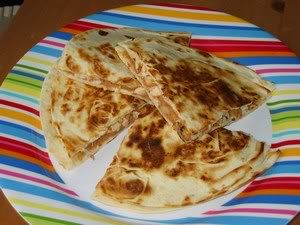 Ingredients:

4 Flour Tortillas
1 cup shredded Monterey Jack Cheese with Jalapeño Peppers
A large bowl of shredded roast turkey, mix 1/2 tsp of fajitas seasoning
2 Tbsp. butter, divided
1 cup refried beans


TOP each tortilla with 1/4 cup of refried beans, 1/4 cup cheese and shredded turkey ; fold tortillas in half.

HEAT large nonstick skillet on medium heat. Add about 1-1/2 tsp. of the butter; heat until melted.
Add 1 folded tortilla; cook 3 minutes on each side or until golden brown on both sides.
Remove from skillet; cut into 6 wedges.
Cover to keep warm. Repeat with remaining tortillas, adding remaining butter to skillet as needed.

Serves