Patience again has the major role here, steam on medium low heat to achieve success. For richness in flavor, reduce the sugar and substitue with 1 tbsp of condensed milk.This custard is good according to the chinese - it will soothe a sore throat , 'yoon' the lungs and the ginger digests. Have this as an after meal dessert and have it piping hot.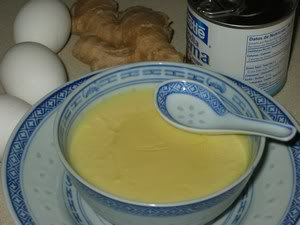 Ingredients:

6 large Eggs
2 1/2 cups Water
3 - 4 ozs rock sugar
2 inch knob ginger(grate and squeeze)

Method:

1. Dissolve rock sugar in the water, cool a little.

2. Beat egg lightly,stir in syrup and ginger juice.

3. Transfer egg mixture to containers.

4. Steam over medium low heat for 6 minutes until set.(Time may vary to different containers).