This dish is the easiest and most convenient as it is steamed on top of rice in the rice cooker so no washing of cooking utensils is needed.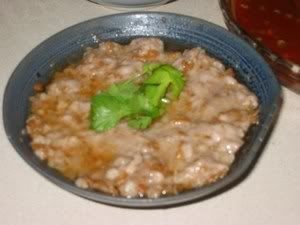 Ingredients:
8 ozs of ground/minced pork
3 tbsp of tung choy(washed)
2 tbsp of soya sauce
1 tsp of sugar
1/4 tsp pepper
1 tbsp of tapioca flour
a pinch of msg(optional)
1 tbsp of sesame oil


Method:
Mix all the ingredients in a slightly deep plate that fits the rice cooker.
When rice is going to be cooked, place plate on top of rice and let the steam of the rice cook the meat.



Notes:

Besides tung choy, a variety of ingredients can be substituted such as char choy, shitake mushrooms, dried squid, eggs, mui choy or tai tau choy. When using eggs, there are 2 versions, one has water added to the eggs to give a tofu texture and the other has no water added but maybe salted egg and tapioca flour is not used.