It is actually a lacy crepe and is eaten with curry. I have made Chicken curry to go with it.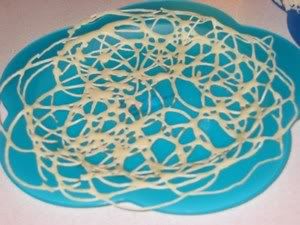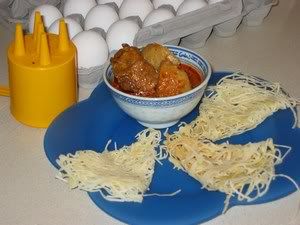 Ingredients:

(A)

12 fl oz milk
2 eggs
pinch of salt
1 tbsp oil

(B)

8 ozs plain flour

Utensil:

Non-stick frying pan or electric skillet
Lacy crepe maker

Method:



Combine (A) in a bowl and beat until well blended.
Sift flour into a mixing bowl. Add egg mixture in centre of flour and stir till batter is smooth. Strain batter through a fine sieve to remove lumps. Set aside for 15 minutes.
Lightly heat a non-stick frying pan or skillet. Grease lightly with oil and run the batter in a lacy pattern into the pan from the lacy crepe maker. Cook till batter changes colour and fold crepe whilst still in pan.
Repeat until all the batter is used up. Place folded pancakes on top of one another and cover with a tea towel or cling wrap to prevent drying.
Serve hot or cold with Chicken Curry.
CHICKEN CURRY
Ingredients:
3 1/2 lb chicken, cut into pieces
(A)
10 cloves garlic
1 thumb size piece ginger
1/4 thumb size piece tumeric
2 tbsp curry powder mixed with 4 tbsp water
1 tsp salt
8 fl oz coconut milk
(B)
1 heaped tbsp cumin seeds or
3/4 tbsp cumin powder
1 heaped tbsp poppy seeds
8 buah keras
4 fl oz oil
10 ozs shallots, thinly sliced
8 - 10 dried chillies, soaked and grind to a paste
1 stalk curry leaves
Seasonings:
3/4 - 1 tsp salt
1/2 tsp msg
METHOD:
Pound (A) to a fine paste
Season chicken with (A), salt, and leave for 1 hour.
Pound (B) to a fine paste and mix with the coconut milk.
Heat oil and fry 3/4 of the sliced shallots till light golden brown. Lower heat, add chilly paste, curry leaves and fry till turns red.
Add chicken, stir well, reduce heat to moderate and cook for 1/2 hour with lid on. Do not uncover whilst the chicken is cooking.
Remove the lid, add the rest of the sliced shallots, salt for seasoning and the coconut milk mixture. Stir, bring to a boil, reduce heat and simmer until chicken is tender.