Yee Sang is a salad served during the Chinese New Year and raw fish is sliced very thinly and lime/lemon juice is added to the fish before serving. The fish served in this case has to be very fresh which unfortunately is impossible to get here. I have substituted it with jelly fish.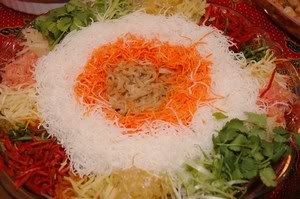 Ingredients:
150g sliced raw fish (you can use salmon)
200g radish shreds
150 g carrot shreds
30g tian-cha-gua (mandarin, direct translation sweet tea melon)
30g qua yin (mand.)
100g pomelo
50g crispy chips (can be sub. with fried wanton skin or yao cha guai)
30g red yam shreds
20g sweet onion pickle shreds
30g green yam shreds
10g red sweet ginger pickle
10g white sweet ginger pickle
1 tsp shreded lime(limau perut) leaves
some coriander leaves
1/2 lemon
1 tsp brandy
15g sesame seeds, toasted
30g peanuts, toasted and ground
1/2 cup of garlic oil + 1 tsp sesame oil

Sauce:150g plum sauce
1/2 tbsp hoisin sauce
1 tsp pepper
1/4tsp five-spice powder
apricot jam
lime juice


Added ingredients or sub.:

pickled mango
orange rind
dried apricot


Have to make my own qua yin which is sweetened green papaya.





shred green papaya, add salt and leave aside, squeeze out as much liquid as possible
blanch in hot water, remove and drain
cook sugar with 1 tbsp of corn syrup and water until thick,
add in shred papaya and mix well.
let it cool.
YAM SHREDS
shred or juliene yam.
one portion color with red and another in green.
deep fry them until crisp.








To make crispy cracker -



1 tsp baking powder
a pinch of salt and pepper
enough water to make into a dough


Mix all the above ingredients and rest dough for 30 mins.


Divide dough into small pieces and roll each piece as thin as possible, like wonton skin.


Cut into 1" x 1/4" strips and deep fry


Method:



1. Prepare all ingredients and arrange on a serving plate
2. Mix raw fish with lemon juice and brandy. Pour the oil and sauce and toss all ingredients .


Serves