Mushrooms braised this way goes very well as a side for the chicken rice and a topping for noodles, be it wantan noodles, meifun or instant noodles for that matter. If stand alone it as a vegetarian dish.
For the chinese new year, a very good grade of dried shitake named 'far koo' - translated as 'flower mushroom' for the pattern that is on the mushroom.surface and the color is paler. Braised slowly and the mushrooms taste better than chicken meat.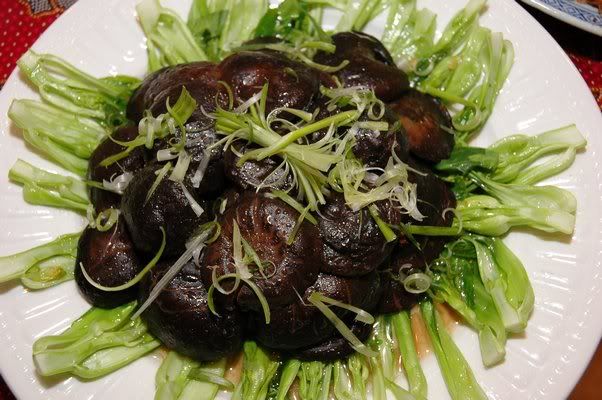 Ingredients:


1/2 lb of dried shitake mushrooms
3 cloves garlic - crush
1 1/2 tbsp oil
2 cups broth - chicken / vegetable/strained liquid from soaking of mushrooms
1 1/2 tbsp oyster sauce
1/2 tsp salt
1 piece rock sugar(1 inch ball)
pinch of freshly ground black pepper
2 tbsp rice wine
1 1/2 tbsp cornstarch diluted with 100 ml water
2 tbsp sesame seed oil
Marinate :
1 tbsp ginger juice
1 tbsp spring onion juice
1 tbsp light soya sauce
1 tbsp sesame seed oil
Pinch of salt


Method:
Remove stems and put mushroom caps in a saucepan covered with water and bring to the boil. Discard the liquid and wash the mushrooms thoroughly. Return mushrooms to saucepan and cover with water and let mushrooms soak till double its size. Drain the mushrooms and squeeze them dry. Make a marinade with salt, ginger and spring onion juice, soya sauce and sesame seed oil and marinate the mushrooms for 10 minutes.
Heat oil and saute garlic. Add in the marinated mushrooms and saute until fragrant. Add in the rest of the ingredients except the rice wine.
Bring to a boil and reduce to simmering for 30 mins. Uncover so that the sauce reduced slightly. Add rice wine , bring back to the boil and add in cornstarch mixture to thicken. Lastly add in sesame seed oil.