It was already 6.00 pm by the time we got home from The Recreation Center where Renee has her swimming lesson and i have to get dinner fast as we are all famished after the swim and hot tub. Luckily, http://mytasteofasia.com has asked me to test out sme of their products and this is the most appropriate time to cook one of them, as the curry will be ready when my rice is cooked and i have dinner on the table. The curry is flavorful and lemon grass is greatly present and this is what makes the curry NYONYA.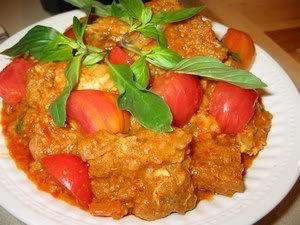 Ingredients:

3 pieces of leg quarters - cut into bite size
salt and pepper for seasoning the chicken
1 tbsp oil
3 tomatoes - cut into wedges
1/2 big onion - cut into thin slices
1 pkt Instant Curry Chicken Nyonya Mix (ChanHong)
1 pkt Coconut Cream Powder (Kelapa) + 150 ml warm water
salt to taste

Method:

Season the chicken pieces with salt and pepper and when oil is hot, sear all sides of chicken until brown. Remove and leave aside.

Add sliced onions into the oil and stir until the onions are wilted.

Add in the pkt of instant curry chicken nyonya mix and saute until combine, then add in the 1/2 cooked chicken pieces. Stir well.

Add in 1/2 of the tomatoe wedges and then cover for 2 minutes for chicken to cook through.
Add in the coconut powder mixture, stir and cook until chicken is totally cooked and the sauce has thickened.

Add salt to taste and the rest of the tomatoes.

Serve hot.

Serves