Instant Noodles enjoy a huge popularity in every asian homes around the world. The range of flavors are limitless and so too are their patrons. Students, overseas or in their homeland, busy or not so busy housewives, asian tourists, etc, all find great enjoyment in them.

And me, I am a confessed Instant Noodle addict and the addiction progresses with new flavors .I have to thank Ray of http://mytasteofasia.com/ who sent me these 3 kinds to sample and i must say, i am hooked. They are Uncle Ho Bak Kut Teh Noodles, Ina Yee Mee and Ina Pan Noodles and thanks to him again, malaysians here in the States do not have to drool over these comforts from home but can purchase them online.

There is need for suggestion as to how to cook or eat them, Instant speaks for itself, eat them as is, but by all means add vegetables , meat, fish balls, etc to make the meal more substantial if it is being served for lunch or dinner.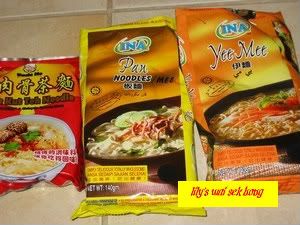 Ingredients:

a packet of instant noodle

Method:

Fill a big soup bowl 3/4 full of cold water.



Put in the noodle and flavors



Microwave on high 3 - 4 minutes, covered with a splatter.(time differs with the wattage of your microwave)



Using oven mittens, remove the splatter then the bowl of cooked noodles.



Enjoy

Serves