Flat leaved chinese chives, also called garlic chives are the main ingredient rather than an accent in these dumplings. The dumplings are always recognizable by the emerald hue of the filling. This dumpling skin is actually meant of Har Gow and i have attempted many times to make some good dumplings but have failed. So, since i have a patch of chives growing in the garden, i decided to use them as the filling. If this attempt failed, at least i did not waste the expensive shrimps. Surprisingly, this recipe turned out well. It was easy to make but a word of caution though, these dumplings will not keep, they have to be served as soon as they are ready and do not oversteam too.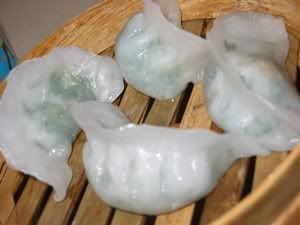 Ingredients:




Dumplings:
1 1/4 cups wheat starch/tung mein fun
1/4 cup tapioca flour
1/2 tsp salt
1 cup boiling water
1 tsp vegetable oil


Filling:

1 1/2 tsp salt
1/2 lb chinese chives, cleaned, trimmed and cut in 1/2 inch lengths
4 ozs shrimp, peeled, deveined and cut in 1/4 inch dice(about 1/2 cup)
1/2 tsp soya sauce
1/8 tsp ground white pepper
1/2 tsp toasted sesame oil
1 tsp cornstarh


Method:

Dumplings:


Combine wheat starch and tapioca flour and salt.

Add boiling water and the oil and stir with chopsticks or wooden spoon. While the dough is still very hot, turn it out onto a board dusted with 1 tbsp wheat starch.

Knead until smooth, adding a little more wheat starch if neceassary. The dough should be soft but not sticky.

Divide the dough into thirds. Use palm to roll each portion into a 9 inch cylinder. Cover loosely with a slightly damp paper towel to keep the dough from drying out. The dough is now ready to cut and press or roll out as needed.

To make round dumpling wrappers, wheat starch dough can be sandwiched between squares of baking parchment and then pressed flat using downward pressure (i use the pastry scraper). The result will be an almost-perfect circle. Afterward, if you still want your circles larger or a little thinner, roll them out lightly with a rolling pin before peeling away the parchment.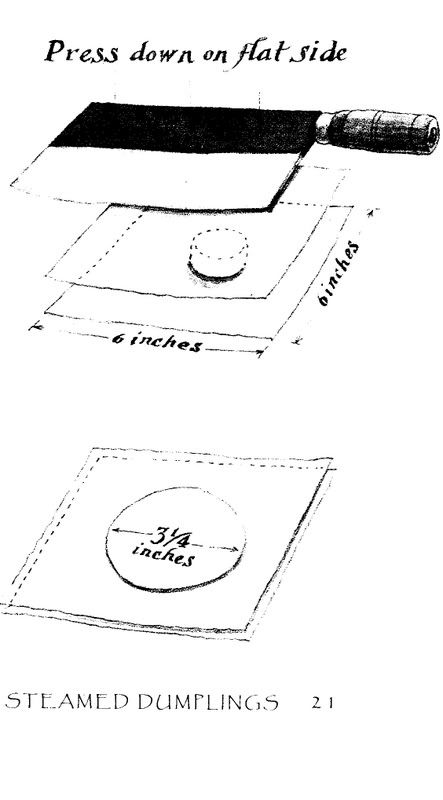 Filling:

Bring 2 quarts of water and 1 tsp of salt to a boil.

Add the chives and blanch for 1 minute over high heat.

Drain the chives in a colander, and rinse under cold water to stop the cooking.

Squeeze the chives dry.

Combine the chives with the remaining 1/2 tsp salt, the shrimp, soya sauce, white pepper, sesame oil and cornstarch.

Set aside.

To assemble:

Make one very narrow pleat that extends from the edge almost all the way to the center of the circle. Make 7 or 8 more narrow pleats alongside, each almost overlapping the last.(i can only manage to pleat 5). Your final pleat should be just over halfway around the circumference of the dough. Press a finger lightly along the inside of the pleats to flatten them slightly and enlarge the pocket within.






Spoon about a teaspoon of the filling into the pocket, keeping it from touching the open edge of the dough. Pinch the edges of the dough together very firmly.

Repeat with the remaining dough and filling.

Arrange the finished dumplings 1/2 inch apart in an oiled pan. Steam on very high heat for 7 minutes, replenishing the steamer with hot boiling water as necessary between batches.

Brush cooked dumplings with cooked fragrant oil for shine and to prevent from drying out.

Let dumplings rest for a few minutes before transferring them to a serving plate.

Serve hot.

Serves