These crispies are so addictive and one should remove a few and then put the container away, otherwise the crispies in the whole container can be eaten at one go. It was really fun making them especially they turned out so well..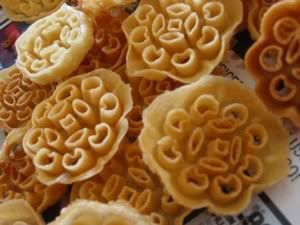 Ingredients:
1 can of 400 ml coconut milk
2 large eggs
170 gm sugar
150ml water
1/2 tsp salt
240 gm all-purpose flour
100 gm rice flour
Oil for deep frying

Method:

Prepare at least two moulds.

Combine coconut milk, eggs, sugar, water and salt in a mixing bowl. Stir until sugar dissolves.

Sift all-purpose flour and rice flour and add in the the above. Whisk to obtain a consistent batter, sieve to prevent lumps. Pour batter into a straight sided cup.

Heat oil in a wok/deep fryer until 325F..
Preheat moulds in the hot oil. (The moulds have to be hot enough for batter to cling on them)

When the oil is hot enough, dip mould into batter. Make sure batter coats only the bottom and sides of mould.

Place coated mould in hot oil. Shake to release from moulds. If required, use wooden chopsticks to help releasing. Fry until golden brown.
Repeat until all the batter is used up.by using two moulds alternately. Use one while the other is being heated up in the hot oil.
Preheat oven @ 250 f and bake the crispies for 10 - 12 minutes to ensure that they are well done.

Leave to cool completely on wire racks.
Store in air-tight container.

Serves