Since i found the utensil to scrape fresh coconut, i am now able to make kuih kuih which are very near to the ones sold in Malaysia. Have not eaten one for donkey ages. I am sure it was the same with my friends who attended the potluck in my house last sunday. I made the kuih koci ahead of time and i tasted one and it was the best, if only i had pulut hitam, it would be better. I left the rest in the freezer. On sunday morning, i steamed them and made the mistake of oversteaming, the santan turned to oil. so, a word of caution, do not oversteam. This recipe is for bigger kuih koci but i made them half the size which is so cute. This picture is taken from the first batch i made which does not have pandan paste added to the dough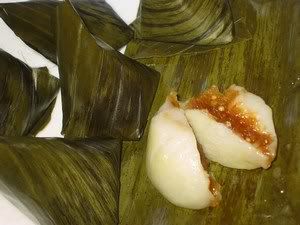 Ingredients:

300 g glutinous rice flour
1 tbsp cornflour
1 tbsp sugar
1 tbsp oil
1 tsp pandan paste
270 - 300 ml coconut milk

For glazing
3/4 cup thick coconut milk
1 tsp rice flour mix with 1 tbsp water
1/2 tsp salt

16 pieces banana leaves (15 cm x 20 cm) softened in boiling water
oil for greasing the banana leaves

Filling

2 cups grated coconut
90 g gula melaka
50 g sugar
1 tbsp sago mixed with 2 tbsp water
2 tbsp water
1/2 tsp salt

Method:

Filling:

Cook gula melaka, sugar and water until syrupy.

Add grated coconut and sago and cook until sago is cooked and coconut is dry.

Leave to cool and divide into 16 pieces.

Dough

Mix glutinous flour with cornflour in a large bowl.

Bring coconut milk, sugar and oil to the boil, remove from heat and add pandan paste then pour over the flour.

Use a wooden spoon and mix into a dough. Knead until smooth.

Divide dough into 16 pieces and rest dough covered with a damp cloth.

Cook the 3/4 cup of thick coconut milk and salt in the microwave on high for 1 minute and then mix in the rice flour. Stir to mix and put back in the microwave and cook 1 more minute until mixture is thickened. (timing depends on your wattage of microwave)

Take a piece of dough, flatten and plsce a part of the filling in the middle, wrap up filling. Make sure to cover filling thoroughly. Dunk into coconut milk glaze and coat generously.

Put in the middle of greased banana leaves and turn ends in.

Repeat with the rest and steam in boiling water for only 12 - 15 minutes.

Kuih koci should be served warm but if you are in the tropics it can be served in room temperature.