There is alot of egg whites collected from all the chinese new year baking of pineapple tarts and kuih bangkit. Besides that, Alexander's breakfast of egg yolk every morning added up to the piling. I have a recipe for a steamed layer cake which is in my collection of recipes in malaysia. I thought that the recipe posted below would be it but no so. Anyway, it turned out so delicious that this is a sure keeper.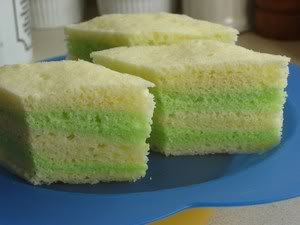 Ingredients:

2 1/4 cups cake flour
1 1/2 cups superfine sugar
3 teaspoons baking powder
1 teaspoon salt
3/4 cup thick coconut milk
1/2 cup vegetable oil
1/2 teaspoon pandan paste
5 large egg yolks
1 cup /8 large egg whites
1/2 tsp cream of tartar

Method:

1. Heat the steamer and line the bottom of a 10 inch square tin and grease lightly.
2. In a large bowl, sift the flour, the sugar, baking powder and salt, set aside.
3. In a separate bowl combine the coconut milk, oil, and the egg yolks.
4. Begin whipping the whites in a separate bowl with the cream of tartar. You want to whip until a softly stiff peak. It should form a peak that just turns over at the top.
5. Mix the egg yolk mixture and then mix into the dry ingredients.
6. First add in 1/3 of the beaten egg whites (not the entire batch) to the heavier batter to lighten it. Never add the batter to the whipped whites or they'll deflate. Make sure the batter has been completely stirred or mixed
7. Then pour the lightened batter to the beaten egg whites. Reaching into the center of the bowl with a rubber spatula, cut vertically through the two ingredients. Then, pull the spatula out to the edge and up, gently folding the denser ingredient over the lighter mixture. With your other hand, rotate the bowl as you go. Stop when the batter looks evenly streaked with beaten egg whites and batter. Do not overdo it or you will deflate the whipped ingredient.
4. Divide batter into 2 portions and add pandan paste to one portion.
5. Pour 4 ozs of plain batter(2 scoops of soup ladle) into prepared tin and steam until cooked. Then pour in 4 ozs of green batter and the process is repeated. Complete steaming for another 10 minutes to further cook the cake.
6. Remove from steamer and leave to cool for 10 minutes before removing from tin.
7. Slice, serve and enjoy



Serves